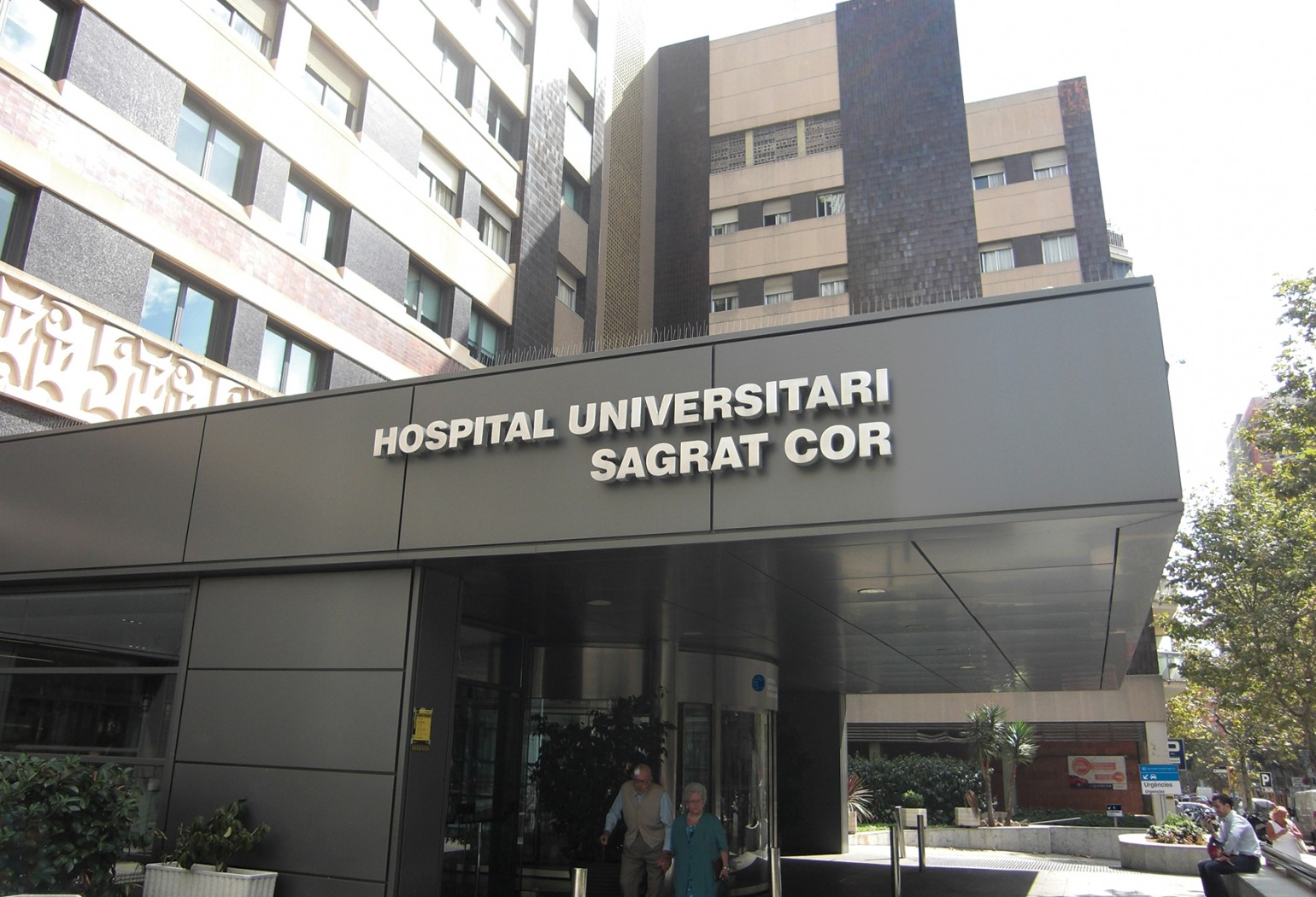 Hospital Sagrat Cor, Grupo Quirónsalud
Trust the private hospital in Barcelona with better facilities
Clínica Sanza trusts Sagrat Cor Hospital for all surgical interventions. Its prestigious facilities, medical and sanitary staff as well as its technology are a guarantee.
We know how important the moment of the intervention is for you. Barcelona has a lot of private health centers worldly renowned. The Hospital Universitari Sagrat Cor is one of them, it belongs to the Quirón group, being the biggest private hospital in Barcelona whose mission is to prioritize the quality of life of the patients with qualified staff, the latest technology, avant-garde techniques and personalized service.
Currently the hospital has a team of 1.100 professionals that do approximately 25.000 surgical operations and treat more than 400.000 patients a year.
Due to the quality of its medical staff and the hospitals' goal to improve the health assistance through training, the Hospital Universitari Sagrat Cor is part of teaching program of the Medical Faculty of the Universidad de Barcelona and is recognized by the Ministerio de Sanidad of Spain to train medical specliasits (MIR), pharmaceuticals (FIR) and nurses (EIR). Each year the Hospital Universitari Sagrat Cor contributes to the training of more than 800 sanitary professionals.
Hospitalization
The Hospital Universitari Sagrat Cor has more than 300 beds dedicated exclusively to hospitalization. There are different room types: double, double for sole use and induvial; all beds have an electric system of easy use and a system to call the nurses, placed in the bedhead; a sofa bed for a companion and a bathroom with a shower. It is also equipped with a television and a phone.
Intensive Care Unit
This unit has 10 beds for patients in a critical state.
Surgical Area
It has a central surgical unit with 9 operating rooms of high complexity, 4 of lower complexity that are available in the morning, afternoon and night. It also has 5 units for Ambulatory Minor Surgery. The Unit for non-admission surgeries (UCSI) Ambulatory Major Surgery (CMA) have a total of 14 boxes to attend patients of major surgery that do not need admission in hospitalization. These patients have to consent and meet some previous requirements. As the patient leaves, a phone number is provided to make consultations during the next 24 hours and also for a post op check-up visit.
Cutting edge technology and patient care
The Hospital Universitari  Sagrat Cor, property of Quirón group, has a capacity of 350 beds and medical technology and top hotel services. The hospital offers all type of medical surgical specialities and currently have around 1100 professionals.
Thanks to the experience of its team, the center is accredited as a teaching hospital by the Facultad de Medicina of the Universidad de Barcelona and to prepare the specialized doctors (MIR) by the Ministerio de Sanidad y Consumo. It also has agreements with other Catalan and foreign universities for the preparation of the undergraduate and post graduate programs.
The hospital is part of a complex of buildings in the Eixample neighbourhood of Barcelona built in the 60s and 70s. It is permanently under construction in order to modernize the facilities and incorporate the newest techniques in order to improve the patient and family care. In this sense, new operating rooms, new services, new consults have been built and have progressively updated the hospital.
Hospital Universitari Sagrat Cor has a prestigious staff, advanced technology, a research and teaching vocation, and a management based on a solid commitment with quality.
They also do an important task through agreements with the CatSalut (Servei Català de la Salut) oriented towards the decreasing in the surgical waiting lists and be part of the public healthcare (Sistema Sanitari Integral d'Utilització Pública de Catalunya).