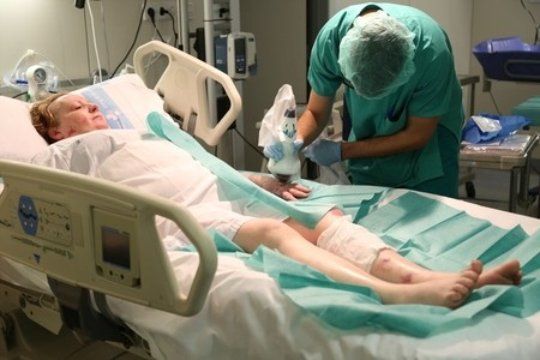 Being able to obtain synthetic skin through bioprinters 3D is one of the main advances that have been presented this morning in the 17th Congress of the European Burn Association (EBA) that is celebrated in Barcelona. It is a procedure that will allow you to obtain artificial skin quickly and help prevent infections more easily. Dr. Joan Pere Barret, head of the Cosmetic and Burns Surgery Department of Vall d'Hebron and president of the Congress has advanced today that it is foreseen that towards the end of the year the Agenc
(AEMPS) gives the green light to this technology.
Other important advances presented at the EBA Congress are regenerative therapies such as pulsed waves and cultivated skin in which the Vall d'Hebron Burn Unit is a pioneer at the state level in its use. "Pulsed-wave therapy allows the release of growth factors that help cells in the body activate to heal burns that previously had to be surgically treated," said Dr. Joan Pere Barret.
Another technique that has allowed patients to recover better and that is developed in Vall d'Hebron is the enzymatic debridement that consists in the application of a product on the burns what it does is to clean the dead skin respecting the maximum possible the skin viable, living, which is below the burn.
With these two techniques what is achieved is to reduce the number of surgeries and that in surgeries that can not be avoided the results are better since the maximum possible dermis is preserved and therefore the patient will have fewer scars and better aesthetic quality . During the Congress, Dr. Barret will be appointed President of the European Burn Association, a position he will hold for the next two years.
The European Disaster Reduction Plan
For a couple of years the EBA has been working on the creation of a European disaster plan that is capable of providing a rapid and effective response to an exceptional situation involving patients with large burns and that exceeds the organizational capacity of a member state.
The following steps, which will already be coordinated by Dr. Barret, are the implementation of this plan that will be especially useful in medium and small countries. "This protocol provides for the creation of medical teams from different European units that would be activated in the event of a disaster to immediately go to the site to make the selection, assess the situation and organize the transfer of patients," said Dr. Barret.
Fuente: jano.es