Silicone, biopolymers or other body materials extraction surgery
Removal of biopolymers from the body (subtitled in English)
Biopolymer extraction on the face (subtitled in English)
Silicone or biopolymers are permanent fillers that have been widely used to augment lips, cheekbones, facial wrinkles, even buttocks, legs and arms. If this is your case, for a very important health issue, you need to remove these substances from your body as soon as possible. We tell you why.
More than 20 years ago they were withdrawn from the market because it was observed that, over time, they caused more or less serious problems of: displacement, rejection, pain, inflammation and even more serious problems of necrosis and embolism. This has created a new disease called "Iatrogenic Allogenosis".
This plastic surgery operation is performed by very few plastic surgeons in Spain, patients come to us from all over the world, even from abroad, because they cannot find a reliable and experienced centre to come to. Clínica Sanza, in Barcelona, can help you, we have been removing biopolymers from our patients' bodies for more than 30 years.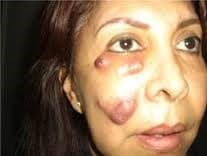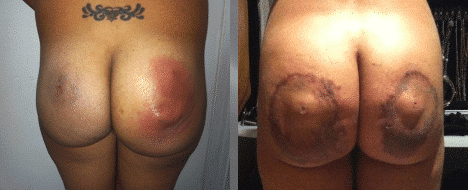 The most commonly used substances have been and continue to be: silicone, paraffin, liquid petrolatum, petroleum jelly, mineral or vegetable oil, animal fat and methacrylate. A large percentage of patients are unaware or uninformed of the injected material as they are usually injected in poorly accredited centers.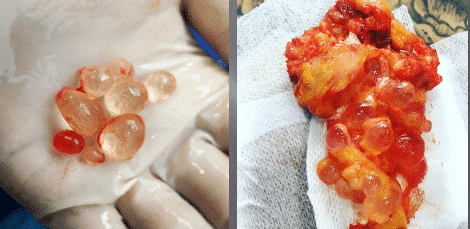 We say that it is still being done because in some centres there are still doctors and not doctors who continue to put them illegally and without scruples, knowing that they are going to cause a safe problem for patients.
At Clínica Sanza we rely on the Sagrat Cor Hospital, part of the Quirónsalud group, to perform our surgical procedures.
Its prestige, facilities, medical and healthcare staff, as well as its technology are a guarantee.
Do you want to know why it is worth coming to Barcelona for plastic surgery and why so many people come from abroad?
WE ORGANIZE EVERYTHING FOR YOU

Your trip, your flight, your operation, your transfer and your hotel with our support agency. We work with the best travel agencies worldwide.
PATIENT PROFILE
People who present complications with adverse outcomes due to infiltration of biopolymers or other substances.
People who want to remove them before having problems.
PROCEDURE
It consists of the extraction of the products with Lipo Laser or open surgery..
 Sometimes they need combined procedures depending on: the area to be treated, the amount placed, and the problem caused at the muscular, subcutaneous, or superficial (skin) level..
DURATION OF THE SURGERY
1 to 2 hours depending on the area to be treated, sometimes 4 to 6 hours
PROTOCOL
Pre-surgery
Evaluation of the area to suit the treatment
Follow specific guidelines determined by the Doctor
Cardiology and respiratory tests, if necessary
Anesthesia
Local and sedation if desired by the patient or general depending on the area to be treated
Hospitalization
Ambulatory if it is for small volumes in face (lips, cheeks and cheekbones)
1 to 2 days admission for large volumes (breasts, arms, buttocks, or legs)
Post-surgery
Medication if required: antibiotics, analgesics, and anti-inflammatories
Mandatory check-ups after a few days, weeks or months depending on the surgery performed
Convalescence
2 to 6 days depending on the amount of product extracted and body area
Recovery practically painless except large volumes in buttocks and legs, which may require more rest and sometimes two surgical times: one to extract and another to repair. Similar to breast cancer reconstruction
RESULTS/OUTCOME
Very gratifying, very grateful for the patients
Recovery of the natural aspect
Improves the psychological profile and self-esteem of the patient
DEGREE OF DIFFICULTY
Simple intervention on lips and buttocks due to Dr. Sanza's experience in these biopolymer extraction techniques
Complex if they affect any large area or close to nerve endings or blood vessels
RISK LEVEL
Low risk if performed by an experienced specialist
Risks specific to the intervention such as haemorrhage, infection or altered scarring. Sometimes long scars or even skin grafts must be left
Whatever your case may be, do not hesitate in contacting us.
Clínica Sanza in Barcelona, Spain, quality service