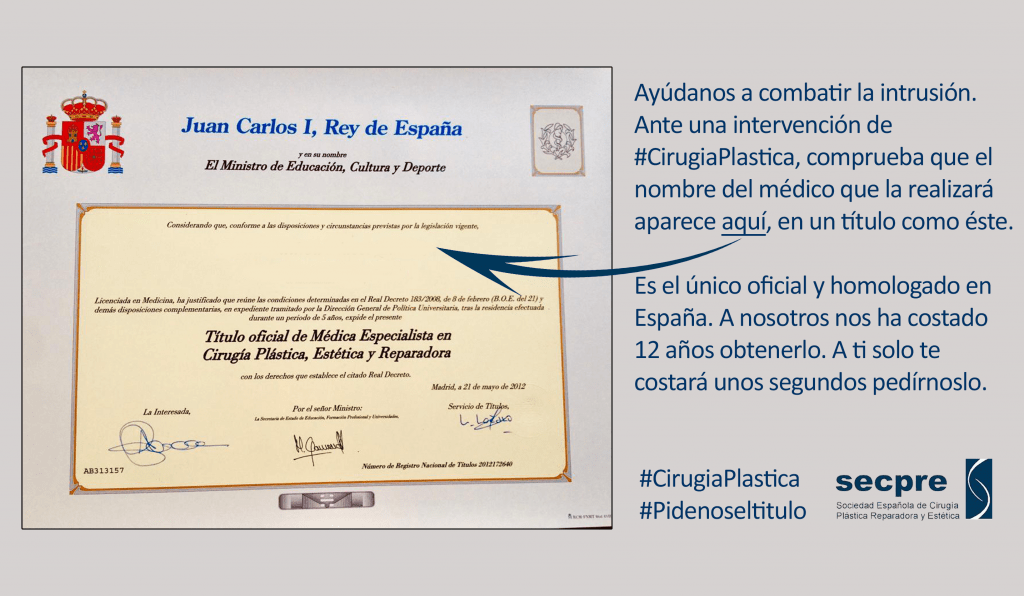 Don't let them lick you, the only official title of "Specialist in Plastic, Aesthetic and Reconstructive Surgery" that exists in Spain and is official is exactly that of the photo. All other degrees, specialties, homologations, courses, etc. are not official and are not sufficiently trained to practice this complicated profession.
All plastic surgeons who have been trained in our country and have the only official degree recognized in Spain, are grouped in a society called SECPRE, which means Spanish Society of Plastic, Reconstructive and Aesthetic Surgery. Before letting yourself be operated on by a supposed specialist with years of experience and all that they are going to tell you, make sure that you are not being messed up and that the specialist is really qualified for the intervention. A plastic surgery operation can be worth a lot of money and like any operation, it has its level of risk, which is minimized by the very high level of education necessary to practice this profession.
In order to have this degree, those who possess it have had to go through a long and demanding training period of at least 12 years: 6 to obtain a degree in Medicine, 1 for the MIR examination and -if, because of the mark obtained in this test, they gain access to the desired position- another 5 as resident doctors in an accredited hospital.
Pay attention to us before it is too late and before giving your approval, demand that you be shown the official title.